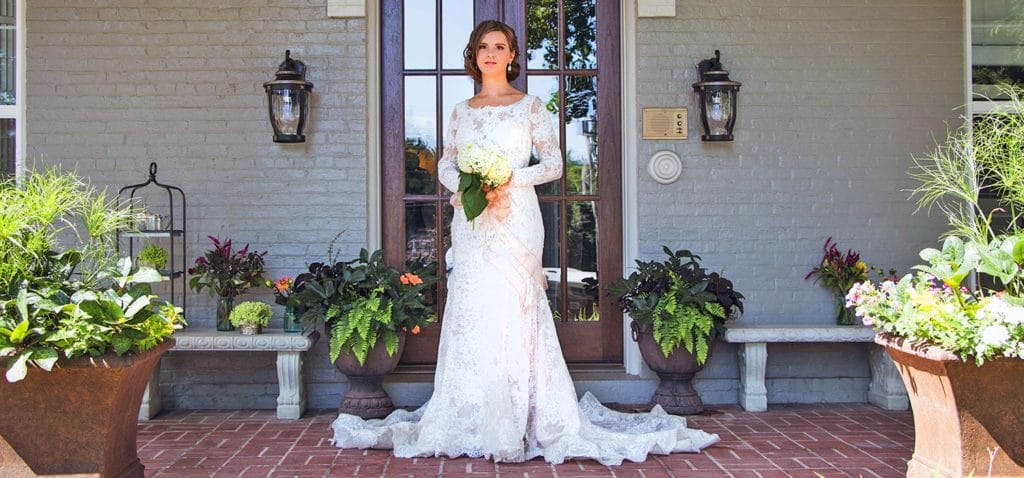 The Villa on Verona is so much more than a luxurious Bed and Breakfast.  Our stunning Villa and expansive 8-acre property doubles as one of the most charming and romantic Michigan wedding venues.  Our Villa is located in the quaint town of Marshall, Michigan near Battle Creek. Set amidst the historic backdrop of Marshall, and coupled with the unique elegance of the Villa on Verona, there's truly no better place to how your wedding than our romantic Bed and Breakfast.
Large weddings around the country have been delayed or canceled altogether due to the Coronavirus pandemic, and more and more people are adjusting their plans and looking for smaller weddings and romantic elopement destinations.  Whether you're looking to host your small, intimate ceremony in the near future, or whether you're looking to plan a wedding a bit further off when large gatherings are allowed again, we hope you'll consider one of the most romantic wedding venues in Michigan, the Villa on Verona.
Whatever it is you want your wedding day to look like, we're here to help.  We believe your love should be celebrated in a unique and special way. We've put together a number of wedding packages to help you plan your big day, and would love to talk to you further.  Contact us about hosting your Michigan wedding today!
The Most Romantic Michigan Wedding Venue
Villa on Verona is a relatively new Michigan wedding venue, but it's already earning a solid reputation of being romantic, elegant, and captivatingly beautiful. While we're not hosting indoor weddings right now, due to COVID-19, there are still plenty of locations on our 8-acre property to choose from as the backdrop for your wedding day. On our grounds, you'll find 4.5 acres of woods & unique gardens, a wedding gazebo, a trellis, swings, fountains, and a pool.  Each of them has their own unique sense of character and would make for a delightful framing to your big day. 
We're also happy to host your wedding party in the Bridal Suite, where you can enjoy all of those special pre-wedding moments as you prepare for the day ahead.  Our Bridal Suite Package is suitable for up to 10 people and includes the use of the Bridal Suite with Gown hook, 3-way Mirror, large closet for Bridesmaid dresses, private bathroom, and a sitting/gathering area. Once you're ready for your big moment, capture that special first look moment on the west patio or any of our other stunning locations.  The planning is all up to you, and we're here to help.  Whatever it is you choose, know your wedding at our elegant Michigan wedding venue will be both unique and memorable.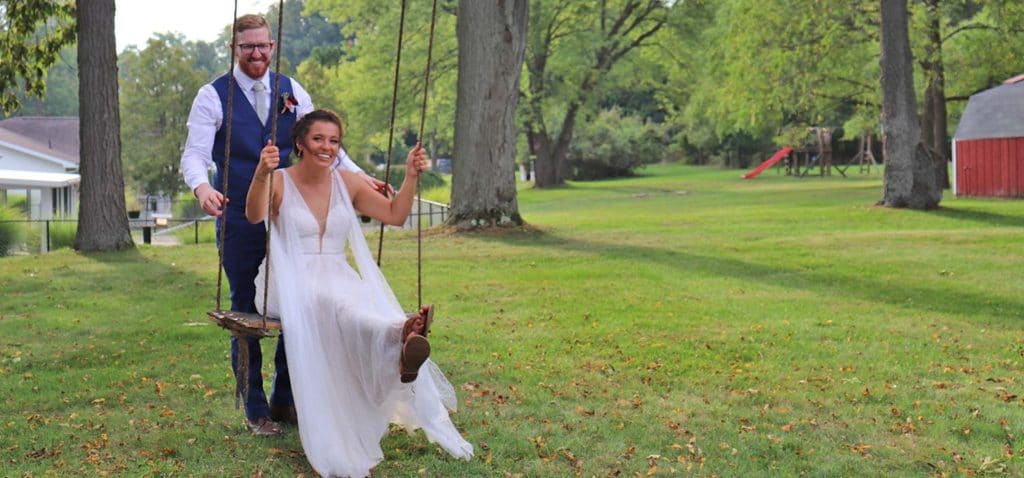 Wedding Packages at our Romantic Bed and Breakfast
The elegant and intimate setting of our Bed and Breakfast makes us the perfect Michigan wedding venue.  Though in a typical year we're happy to host large weddings both indoors and out, for the remainder of 2020 we're restricted to hosting smaller weddings, which is what we'll focus on here.  To help you plan, we've developed a number of wedding packages for you to choose from, depending on the type of event you envisioned for your big day.
Micro-Wedding Package
Micro-weddings have proven very popular this year, and are perfect for groups of 30 or fewer.  Including in this wedding package are the following:
Exclusive use of the B&B and Grounds
2-Night Accommodations for the couple and 8 other friends & family includes Breakfast each morning
Wedding Day Sunrise Yoga up to 10 followed by Mimosa's
Camp Barber Cabin~Wedding Morning Tonsorial Services 3 hrs.
Wedding Officiant
Tent, Table, Padded Chairs, White Linen, Tableware
Celebration Toast
Ceremony Backdrops: Front porch, Gazebo, Trellis, Poolside, Sprawling Grounds or Rustic Woods
Elopement Wedding Package
If you just want to keep your wedding ceremony to a small intimate group of no more than 6 people, then our elopement package might just be what you're looking for. This package is designed to focus on the simplicity of your love, and with keeping any budget in mind.  Included in this package are the following:
Outside Space for 3 hours

Wedding Officiant

Champagne Celebration Toast

On-Site Couples Massage

Wedding Night in the Honeymoon Suite with Gourmet Breakfast

Ceremony Backdrops:

  

Front Porch, Rustic Woods, Poolside, Trellis, Gazebo
Vow Renewal Wedding Package
Maybe you're already married, and just looking for a romantic place to renew your vows?  Our Michigan wedding venue is perfect for this, too! This wedding package can accommodate up to 15 people, and includes the following:
Outside Space for 1 hour

Champagne Celebration Toast

Renewal Night in the Honeymoon Suite with Gourmet Breakfast

Ceremony Backdrops:

  

Front Porch, Rustic Woods, Poolside, Trellis, Gazebo

White Padded Chairs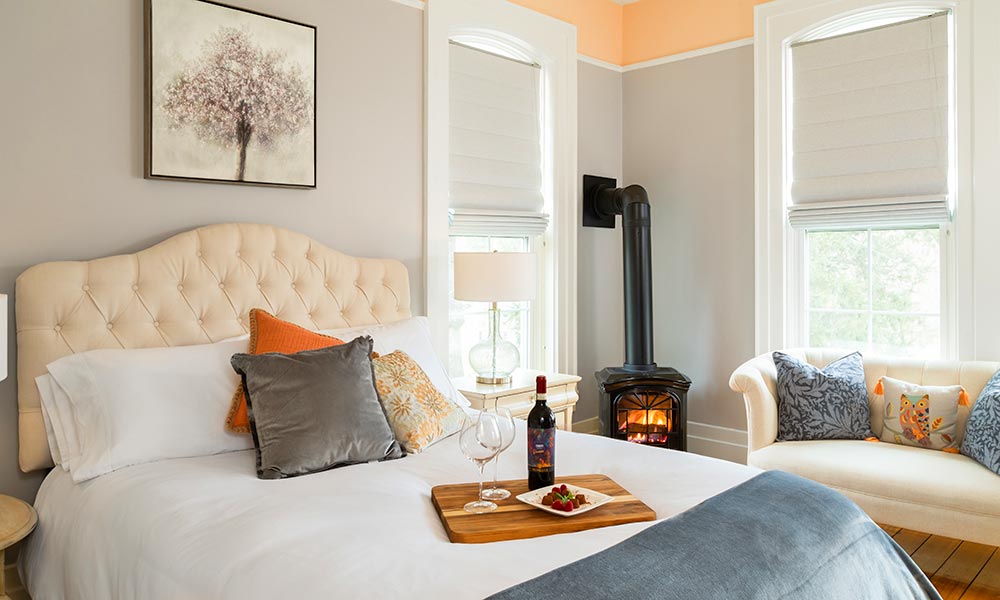 Romantic Honeymoons and Other Special Occasions
One of the best things about utilizing our Michigan wedding venue is that you'll have a lasting "special place" to celebrate a lifetime of special occasions.  Whether you want to spend a few romantic days here after your wedding for your honeymoon or want to return in the future for anniversaries and other special occasions, the Villa on Verona would be thrilled to welcome you back to our elegant Bed and Breakfast.
We'd also be thrilled to host any parties or events you may be planning, be it a bridal shower, baby shower, anniversary party, birthday parties, retreats, or something else entirely.  Though we aren't hosting interior parties right now, typically we can accommodate groups inside of up to 30 people.  If holding your event outside, though, we can accommodate up to 104 people
If wedding bells are ringing for you, we hope you'll consider scheduling in some time to talk to us about your special day, and, soon, joining us at our romantic Michigan wedding venue.  Please reach out to us for more information, and to get started planning your big day at our exceptionally beautiful Michigan wedding venue.